Transportation
FEBRUARY PARKING ADVISORY
QED ENTRANCE CLOSED DUE TO WINTERLUDE
On weekends from February 2-19, Queen Elizabeth Driveway between Confederation Park and Preston Street will be closed to traffic. As the entrance to Lansdowne via Queen Elizabeth Driveway falls within these closures, fans who have pre-purchased their parking at TD Place are advised to enter the underground garage via Bank Street. For more info, please click here.
These closures will be in effect:
Saturdays, February 3, 10 and 17, 9:30 a.m. to 8:30 p.m.
Sundays, February 4, 11 and 18, 9:30 a.m. to 6 p.m.
Monday, February 19, 9:30 a.m. to 3:30 p.m.
Traffic delays should be expected whenever there are road closures, and fans are asked to give themselves extra travel time on their way to TD Place.
NOTE: Queen Elizabeth Driveway may re-open if the Rideau Canal is forced to close based on weather conditions. Please click here to check the canal's status.
DIRECTIONS
FREE PARK & SHUTTLE
Continuing for the 2017-2018 Ottawa 67's season, fans will be able to take advantage of FREE shuttle service from Carleton University to TD Place. This shuttle service will start running from Carleton U 90 minutes before the start of every 67's home game, providing continuous service until 60 minutes post-game.
Fans must park on the 3rd LEVEL of the P-18 Parkade, located off University Drive at the Carleton University Campus. Vehicles must park in this specific zone to avoid being ticketed. Shuttle buses will pick-up fans from the west side of the P-18 parkade and deliver fans to TD Place.
Shuttle buses will drop off and pick up fans at TD Place between Gate 3 and the Aberdeen Pavilion.
*A wheelchair accessible bus is available as part of the Park & Shuttle program.
Check out the video below for info.
TRANSIT
Remember, if you purchase your ticket in advance to any Ottawa 67's home game you'll receive free service on all OC Transpo routes to and from TD Place. Enjoy the game, and remember to keep your event ticket stub for your return trip on transit. Free service begins three hours prior to game time and finishes three hours after the end of the game.
Need Transit Information?
Visit OCTranspo.com for route info and transit times.
Select Take Transit.
From the drop down menu select your event date.
Click on your preferred lot for times.
Have a GREAT TIME!
PARKING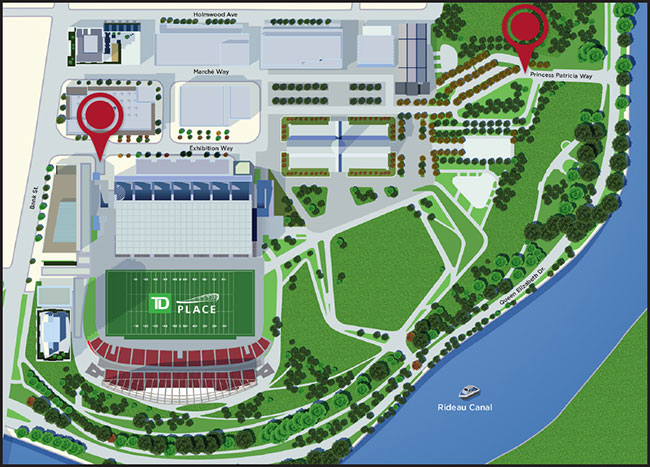 The underground parking garage at TD Place is accessible from both Bank Street and Queen Elizabeth Driveway.
West Access: Located near the Bank Street and Exhibition Way Intersection.
East Access: Located off of Queen Elizabeth Driveway, south of Fifth Avenue. If you have pre-purchased a parking pass, please enter through this access point.
Parking Height Restrictions: 6′ 9″ (2.1 meters)
Parking Rates
Game day parking passes can be pre-purchased for $8 by clicking here.
Each 30 Minutes | $1.50
Maximum Daily | $20.00
Lost Ticket Charge | $25.00