10 reasons to be at The Arena at TD Place this weekend
10. Getting Here
Whether you're driving or taking advantage of FREE public transit, getting to TD Place is simple and won't cost you very much either.
Your pre-purchased 67's game ticket gets you free service on all OC Transpo routes, starting three hours before the game and lasting three hours after the final whistle.
To pre-purchase your TD Place parking, please click here.
9. Free #TELUS Wi-Fi
What's better than being live at the game? Bragging about it on social media, obviously. Thanks TELUS!
8. Street Curling
Head over to Gate 3 on Saturday, November 28 at noon and try your hand at street curling with the folks from the 2016 Brier at TD Place.
Though your on-target shots won't get you into this classic Canadian event running from Saturday, March 5 to Thursday, March 10, you can still purchase your tickets here.
7. 67's Family Pack
Looking some family friendly fun? Look no further. The Ottawa 67's Family Pack includes two adult tickets, two kids (under 14) tickets, and a parking pass for the TD Place parking garage.
Everything you could want for one great all-in price!
6. Pre-Game Meal at Crust & Crate Public House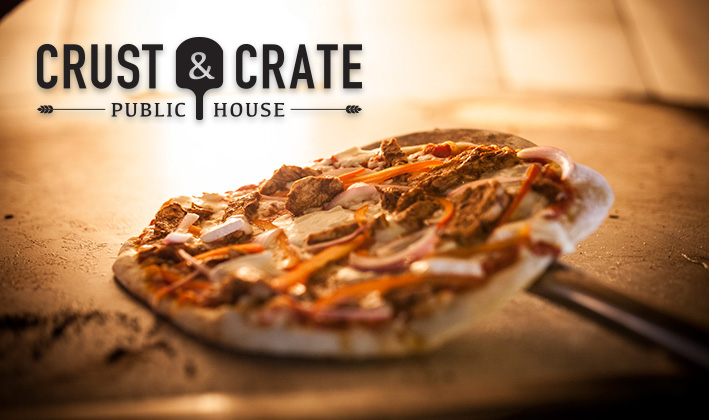 The newest addition to Lansdowne's trendy dining options, Crust & Crate Public House, is opened it's doors only few weeks ago. The Gabriel Pizza-owned, classic Italian-inspired pub will be serving up swanky Al Forno style pizzas and gastropub fare in a colourful, cocktail inspired, beer-loving environment.
They may specialize in pizza but the rest of their menu looks pretty amazing as well. From duck confit poutine to drunken fish tacos, this up-and-coming pub presents a number of delicious dining options.
And Crust & Crate is just one of many on-trend, yet affordable restaurants at Lansdowne. Jack Astor's, Milestone's, LOCAL Public Eatery, and JOEY Lansdowne also offer their taste-fuelled take on the urban dining experience.
5. 67's Kids Pass
At only a dollar per home game, you can't go wrong. The Ottawa 67's Kids Pass gets your child a ticket for every 67's home games at TD Place for $33.
4. Shake it up with the 67's Dance & Cheer Team!
The 67's Dance & Cheer Team are always ready to pump up the crowd at the Arena at TD Place. And they love to get the little ones in on the action too! So don't be shy, get up and shake your booty with these lovely ladies.
Outside of TD Place, they play an important role in the community and act as ambassadors for the organization.
Follow the 67's Dance & Cheer Team on Twitter and stay up-to-date on all the action!
3. Support the Snowsuit Fund
The 67's will be accepting donations of coats, hats, mitts/gloves, and scarves to benefit The Snowsuit Fund at both games (Friday at 7 p.m. and Saturday at 1 p.m.) this weekend.
Donate a piece of warm clothing and you'll receive a voucher for any 67's game in December!
2. FREE Tickets!
The 67's Prospects grassroots program offers all registered minor hockey players in Ottawa/Gatineau 16 years of age and younger free tickets to all Ottawa 67's 2015-16 regular season home games at TD Place.
Visit the 67's Prospects website for more details about how your minor hockey association can obtain free tickets to any 67's regular-season home game.
Parents can purchase their tickets for both Friday's and Saturday's game here.
1. DIFD – Wear Purple!
The Ottawa 67's are proud to support DIFD and invite you to do the same on Friday, November 27 at their home game against the Sarnia Sting at 7 p.m. Get your tickets for Friday's game here.
DIFD encourages young people to talk openly about mental illness and to ask for help when needed. Help us spread the word about youth mental health, wear purple, and cheer on your 67's!