World Juniors Update: Konecny makes the cut
On Saturday afternoon, Travis Konecny's Canadian squad faced off against teammate Stepan Falkovsky and Team Belarus. Konecny scored a beauty wrap-round goal, one of seven Canada tallied against the Belarusians. Check out highlights from that game here.
.@traviskonecny & @Travis_Dermott have each scored and Canada leads 5-1 after 40. STATS: https://t.co/3CYnz1SZe7 pic.twitter.com/LUtr4hREiZ

— Team Canada Men (@HC_Men) December 19, 2015
#Flyers Travis Konecny with a sweet wrap-around goal for Team Canada today in pre-competition action #WJC2016 pic.twitter.com/tqUzB8k29b

— Brady Trettenero (@BradyTrett) December 19, 2015
After an outstanding performance against Belarus, Konecny was vaulted into Canada's top six against the Czech Republic on Sunday morning.
He was positioned on the right side of Saginaw Spirit centre Mitchell Stephens and Kingston Frontenacs winger Lawson Crouse. Konecny and Crouse have played on the same line previously in international competition and duo have been close friends for over a decade.
Though he was held of the scoresheet in a 1-0 Team Canada win, Konecny's tenacity, creativity, and all-around play made him a standout in the contest. Travis even showed off his rarely-seen checking ability, with a big hit on Boston Bruins prospect Jakub Zboril.
Check out highlights from that game here.
Konecny lays out Zboril with a huge hit. The Ottawa 67's player has been dominant in the first two games. pic.twitter.com/i1ao17ZGJN

— Marc Dumont (@MarcPDumont) December 20, 2015
Konecny cuts to the middle of the high danger scoring zone, and gets a nice chance. He does this a lot. It's fun. pic.twitter.com/9LBvxJjnAp

— Marc Dumont (@MarcPDumont) December 20, 2015
His game was so noticeable throughout the first two pre-tournament games, TSN host and Ottawa native James Duthie tweeted some very nice words out about Travis.
Canada's best player easily in the two pre-tourney games thus far: Ottawa 67 Travis Konecny.

— James Duthie (@tsnjamesduthie) December 20, 2015
After Sunday's win over the Czechs, Team Canada boarded a bus headed for Helsinki. The three hour trip allowed Canada's coaching staff time to make the final four cuts beforing announcing their 23-man roster for the holiday tourney.
Travis Konecny becomes first Ottawa 67 to make Canada's world Jr. Team in 13 years. Survives final cuts @ctvottawa @Ottawa67sHockey

— Terry MarcotteCTV (@TerryMarcotte) December 20, 2015
Going to be great seeing Travis Konecny and Lawson Crouse, former minor hockey teammates, wearing Team Canada jerseys

— Brendan Ross (@RossyYoungblood) December 20, 2015
Welcome to the red and white @LawCrouse and @traviskonecny! Keep it here @HC_Men to get introduced to Team Canada. pic.twitter.com/YyFTMzUE74

— Team Canada Men (@HC_Men) December 20, 2015
Travis became the first Ottawa 67's player to be part of Team Canada's World Juniors team since defenceman Brendan Bell was named to their final roster in 2003.
The Canadians have one more exhibition tune-up before the preliminary round, as they take on Team Sweden on Wednesday, December 23 at noon EST.
Their first true tournament competition begins on Boxing Day (Saturday, December 26) at 12:30 p.m. EST as they re-ignite an always heated battle with their bitter rivals, Team USA.
Team Canada then faces three foes in four days, with games against Denmark on Monday, December 28 at 12:30 p.m. EST, Switzerland on Tuesday, December 29 at 12:30 p.m. EST, and Sweden on Thursday, December 31 at 12:30 p.m. EST.
The entire IIHF 2016 Word Junior Championship will be broadcast on TSN. Check out their website for more info.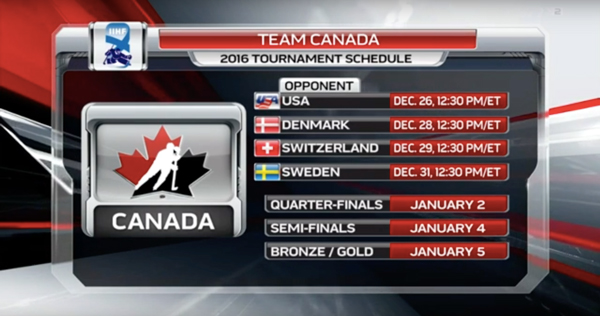 The 67's other representative at the 2016 IIHF World Junior Championship, Stepan Falkovsky (or Falkowski in Belarusian), found out his fate before the friendly versus Team Canada on Saturday.
Belarus' head coach, Alexander Beliavski, cut his squad down to 23 from their camp roster of 31 and the Barber Poles big man was among those to make the list.
This is the Belarusians' first entry into the tournament since 2007. They're seeded in the all-Euro Group B with Russia, Czech Republic, Slovakia, and host nation, Finland.
Belarus opens the tournament with two games in two days on Saturday, December 26 against the Finns at 11 a.m. EST and Sunday, December 27 versus Team Slovkia at 11 a.m. EST.
Their preliminary schedule wraps up with another back-to-back against Russia on Tuesday, December 29 at 11 a.m. and Team Czech Republic on Wednesday, December 30 at 7 a.m. EST.